Recording Studio Spaces
Expressway Properties offers professional quality
recording studio
spaces for rent in
Atlanta
which are designed and engineered by Blue Light Studios. Studio spaces are built in two different styles. The "Venture" series and the "Enterprise" series. Studios in both of the series comes in a range of sizes and locations within the building. Monthly rental prices are based on the size, location and series of the studio. All studios are designed and built with the latest soundproofing technologies and methodologies. Visit us to find out more about the leader in monthly rentals for recording studio spaces in
Atlanta
. Read more about how we soundproof our studios:
Soundproofing.
Ideally situated just ten minutes away from downtown Atlanta, and one exit from the I-285 and I-85 junction, the location is central to the city making it ideal for producers, writers, and artists to conveniently work from. Expressway Properties only offers monthly rentals and studio spaces do not include equipment or custom acoustic treatments. For daily rentals, we have a list of companies who offer studio time on a daily basis that we can provide:
Recording Studio Time Affiliates
.
Contact us to find out about rates and availability for:
Monthly Rentals
Long Term Leases
Recording Studio Time (Rates)
Send Us A Message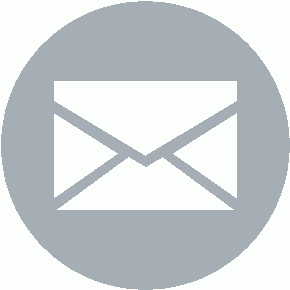 "Venture" Series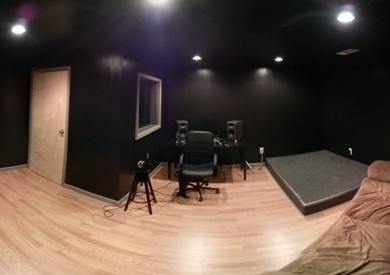 Classic in design, the "Venture" series is a dark and elegant recording studio with the right atmosphere for creating and refining the right sound. Perfect for tight budgets and business start-ups.
Quadruple layer walls
Double layer ceilings
Single and double stud architecture
Green Glue dampening compound
Double entry doors
Double 3/8" to 1/2" vocal booth glass
10mm GenieMat RST Floor underlayment
Acoustic Putty for all electrical boxes
Sound Isolation Boxes over celing lighting
Carpeted vocal booth
Laminate / Hardwood floors
Some vocal booths are pre-fitted with acoustic foam
Price Range: $900 to $1500 / month
"Enterprise" Series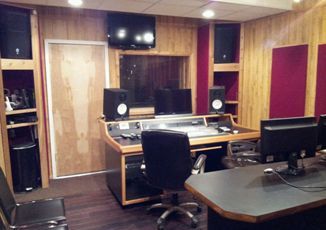 The "Enterprise" Series is our premium studio space offering with larger areas and more unique designs. Each room has an unique theme to give character to your workspace.
Quadruple layer walls
Double Stud Architecture
Double 1/2" vocal booth glass
Double layer ceilings
Green Glue dampening compound
Double entry doors
10mm GenieMat RST Floor underlayment
Acoustic Putty for all electrical boxes
Sound Isolation Boxes over celing lighting
2" Acoustic Foam treated vocal booth
Carpeted vocal booth
Laminate / Hardwood floors
Price Range: $1500 to $2200 / month